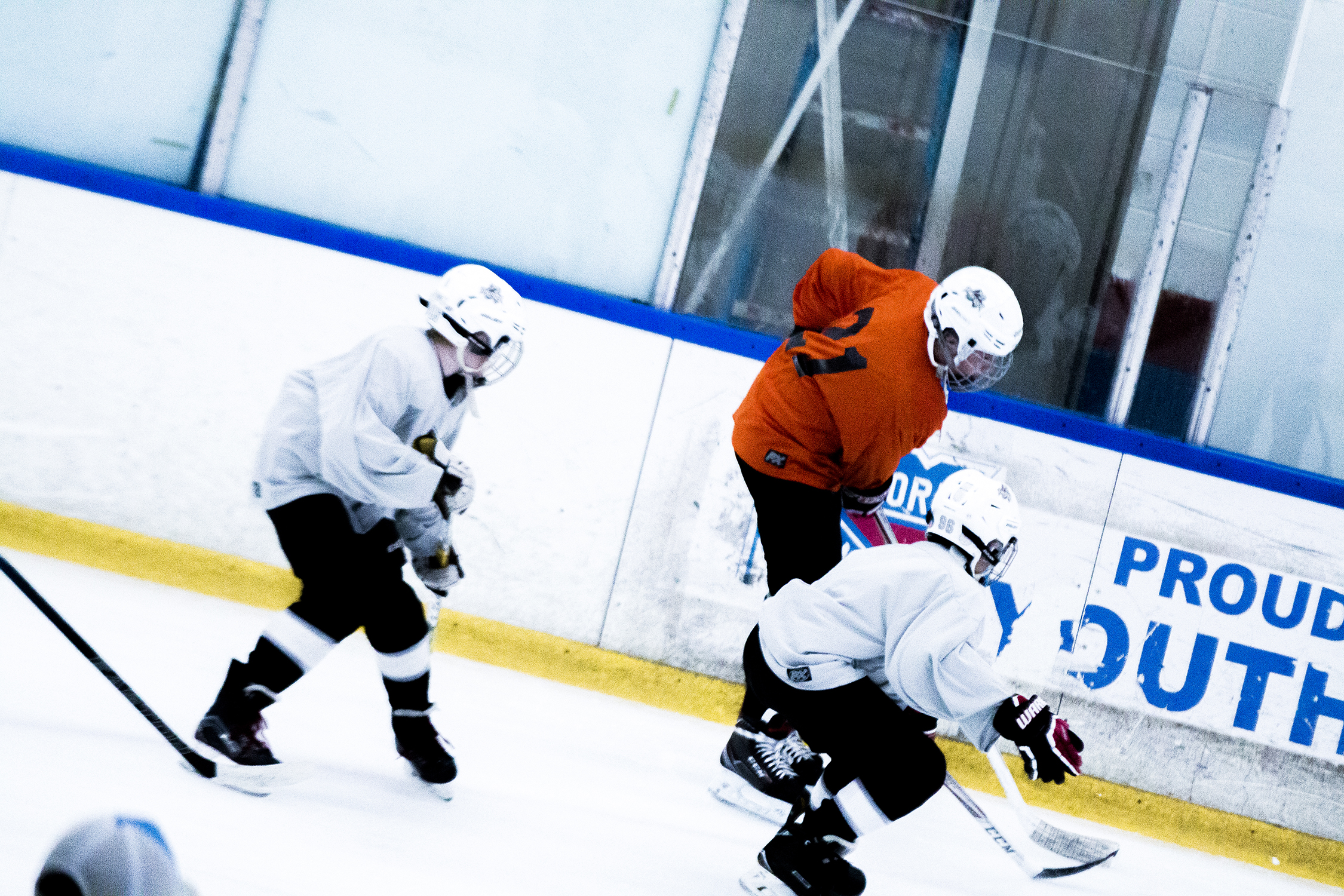 LEARN TO PLAY
For those skaters who have successfully completed our Learn to Skate curriculum, our learn to play (formally thunder clinic) challenges your player to acquire, improve and sharpen the fundamental skills necessary to participate in on-ice competition. Advanced skating, as well as puck handling, passing and shooting will be covered.
Our fun training drills are aimed to develop skill, while building confidence, self-esteem, and promoting a strong sense of teamwork
2019 - 2020 Schedule
Sundays 9:45 - 10:45am
Session 1: 9/15, 9/25, 9/29, 10/6, 10/13, 10/20, 10/27
session 2: 11/3, 11/10, 11/17, 11/24, 12/1, 12/8, 12/15,
session 3: 1/5, 1/12, 1/19, 1/25, 2/2, 2/9, 2/16
session 4: 2/23, 3/1, 3/8, 3/15, 3/29, 4/5, 4/12
Schedule subject to change
Price
$150 per session
10% sibling discount
Jerseys included
Please Call (718) 948-4800
Important Information
Full hockey equipment is required to participate that includes a hockey helmet with cage, mouth guard, neck guard, shoulder pads, elbow pads, hockey pants, protective cup, shin guards, hockey socks & hockey skates.
There is no age requirement to participate in our learn to play clinic but there is a skill requirement. Skaters must have passed our learn to skate clinic.
If your skater has completed a learn to skate class with another organization, an evaluation can be set up to assess your skaters' abilities and to advise you if they are ready for learn to play or must complete our learn to skate clinic.
player to coach ratio is 12:1
You can register over the phone (718)948-4800 or in person. to complete the registration, payment must be made in full. We accept cash, checks made out to Staten island hockey holdings or credit card.
Please check our homepage or facebook back for any snow CANCELLATIONS.
the next step after learn to play is our house league.
2019 - 2020 U9 Division Session 1
U9 evaluation/ practice 1 9/14 7:30AM
U9 evaluation/ practice 2 9/21 7:30AM
20 practices Sundays 9:45am shared practice ice
20 games saturday 7:30am
Price
$800 per player
2019 - 2020 U14 Division Session 2
EVALUATION/practice 1 9/15 8:30am
EVALUATION/practice 2 9/22 8:30am
practices Team a/team b tuesdays 6:40 - 8:00pm shared ice
practices Team c/team d wednesdays 5:10 - 6:20pm shared ice
Games Sundays 7:20am & 8:30am
Price
$800 per player
exact schedules to be sent out after evaluations
10% Titan DISCOUNT
PLEASE CALL (718) 948-4800
Important Information
Not sure if your child is ready to join? If you are participating in our Learn to Play clinic, speak with your coach. if you have played with another organization, call and ask for an evaluation.
Please be aware that this is a team commitment. Make sure your player can attend both practices and games before registering.
your skater you can join and be pro-rated at any point in the session and be placed on a team.
If you are unsure of how to dress your player in full equipment, please ask a coach for assistance before they take the ice.
8th grade through 12th grade players are eligible
Games will be on Fri 6:30, Sat 7:20 & 8:40, SUN 7:10.
USA Hockey Insurance and full equipment is required.
Players will register with the team head coaches.
RICHMOND THUNDER
TRAVEL HOCKEY PROGRAM
The Richmond Thunder Youth Hockey organization serves the children and families of Staten Island and surrounding locale areas through instructional and competitive youth ice hockey. We promote a fun, safe, friendly environment that fosters increased participation, improved skills, teamwork, and long-term personal and athletic development.
Richmond Thunder travel hockey is a competitive hockey league where organized teams from local ice arenas compete against one another for the chance to play for the divisional championship title. Richmond Thunder holds tryouts and selects players based on their individual skill levels and knowledge of the game. Players are then assessed and assigned to teams based on the appropriate age and skill classification, and compete against other players in and out of state.
Who can try out? Tryouts are open to any player with appropriate playing experience. We recommend at least 1 – 2 years of in-house hockey training before trying out for a travel hockey team. Tryouts are typically held in April. Dates and locations will be posted on our website and/or available through richmondthunderhockey.com
Travel hockey is a commitment, and requires dedication from both player and families to reach maximum potential. The Richmond Thunder Travel Program is designed for players who wish to make a serious commitment to the game of ice hockey. Making a commitment to a travel hockey team requires a substantial amount of time and dedication from both the player as well as the parent. This includes making all practices, participating in all games, making timely payments and traveling with the team to tournaments.
HOCKEY F.A.Qs
Q: What programs do you offer for beginner skaters?
A: The first step is our Learn To Skate Hockey program, which teaches your child how to skate and gives an introduction to skating on hockey skates. Skaters learn the fundamentals of skating (stride, turning, stopping, backwards) through weekly classes. After graduating from Learn to Skate Hockey, skaters can move on to our learn to play clinic. In this program, skaters continue to work on their basic skills while also learning the fundamentals of hockey. Passing, stick handling, and shooting are introduced and practiced. This class meets twice a week.
Q: What equipment do I need to participate?
A:To participate in Learn to Skate, you will only need to supply a helmet and skates (skates can also be rented.) It is recommended that skaters wear knee pads and gloves, as they will certainly fall while learning new moves! As your skater progresses on to learn to play, you will need the following equipment: Skates, shin guards, hockey socks, jock, shoulder pads, elbow pads, pants, hockey gloves, stick, helmet with cage. A hockey jersey is provided.
Q: What is House League?
A: The House League is designed to foster a love for the game while developing basic skills. The league promotes creativity and fosters the development of basic skills by letting the kids just play the game. The House League meets once per weekend for games.Players should have some basic skill and permission from the learn to play Director to enter the House League.
Q: What is Travel Hockey?
A:Travel hockey is designed for the more experienced hockey player to play at a higher level of competition. The Richmond Thunder organization offers teams from Mite to Midget levels. Players compete with and against the best players in the area during league play, non league games, and tournaments. Teams practice 2 to 3 times per week and play games on the weekends. Our teams compete in the Long Island Hockey League. After teams are picked in April, they will begin practices in August and conclude the season in March.
Q: What are the ages for Hockey?
A:Players are grouped as follows:
Division Age Group
Mite 8 and under
Squirt 10 and under
Peewee 12 and under
Bantam 14 and under
Midget 16 16 and under
Midget 18 18 and under
High School players currently in high school
Q: When is checking allowed?
A: Checking is permitted at the Bantam level and above. Although contact is inevitable at the younger levels, intentional checking is not permitted until Bantam.